What Is Jaaxy?
… I Often see This Question Asked
You've heard the name Jaaxy, but are wondering just exactly what it is.
In short, it is a top keywords search tool – even more, it's an entire keyword research platform!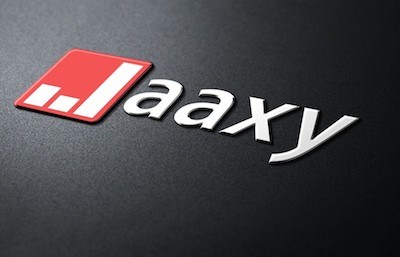 In order to get ranked well in Google, you have to focus on the right keywords and the relevance to your article.  What are people looking for, and what are the search terms they are using? That is hugely important!
You just can't write articles and expect them to be well ranked without giving people what they are looking for, targeting that specific keyword and optimize it in such a way that it's on page #1.
That can be determined easily by using Keyword Analysis with a keyword tool.  There are different keyword tools to choose from, but Jaaxy is one of the better one's I have seen and the one I use myself – after trying others, this is the one I settled on.
Jaaxy will cut your research time literally in half, probably more!
It's so easy to use and will cut out hours of work in no time at all.
… and there is so much more to it than simply finding the best keywords to target.
Below I have given a few screen shots of some of the research this tool will perform.
In the graphic, if you look at the top bar you will see different options:

Avg – Average number of searches that the keyword receives per month.
Traffic – Visits to your website you will receive if ranked on the first page of the search engines.
QSR – Quoted Search Results: the number of competing websites ranked in Google for this exact keyword.
KQI – Keyword Quality Indicator: green is great – yellow is ok – red is poor.
Domains – Domains available that are related to the keyword.
Search
Keywords
Alphabet Soup
Saved lists
Search History
Search Analysis
Affiliate Programs
Brainstorm
Site Rank
Training
Bonus #1: 1,000 High Traffic, Low Competition Keywords
Bonus #2: Niches, Keywords, Success
Bonus #3: Domain Industry Secrets
Affiliate Program
Program Details
My Stats
Links and Tracking
Jaaxy gives you a whole array of research results to help you pick the terms to target and rank on the 1st page of Google!
In the example below, for the term "top 10 inspirational books" I find that there are 3,756 searches/month and that if I optimize my page for that keyword, I should gain an extra 639 visits – awesome! Not only that, but the term has very little competition (89).
Write an engaging article on that subject and Voila!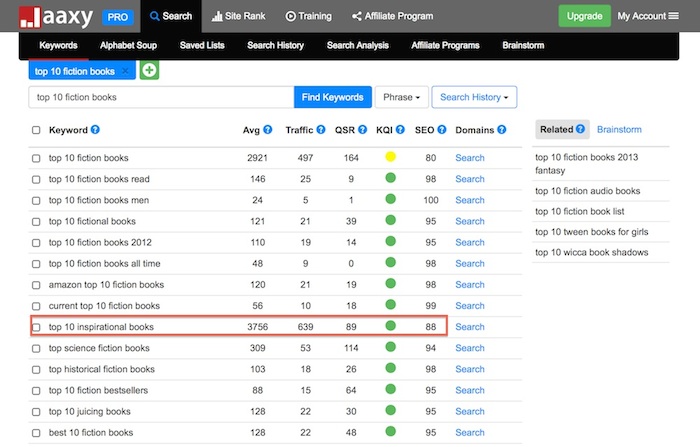 For the same search term, the analysis shows which websites are currently at the top of Google's search results – with all their details!  You can find this information not only for Google, but Bing and Yahoo as well.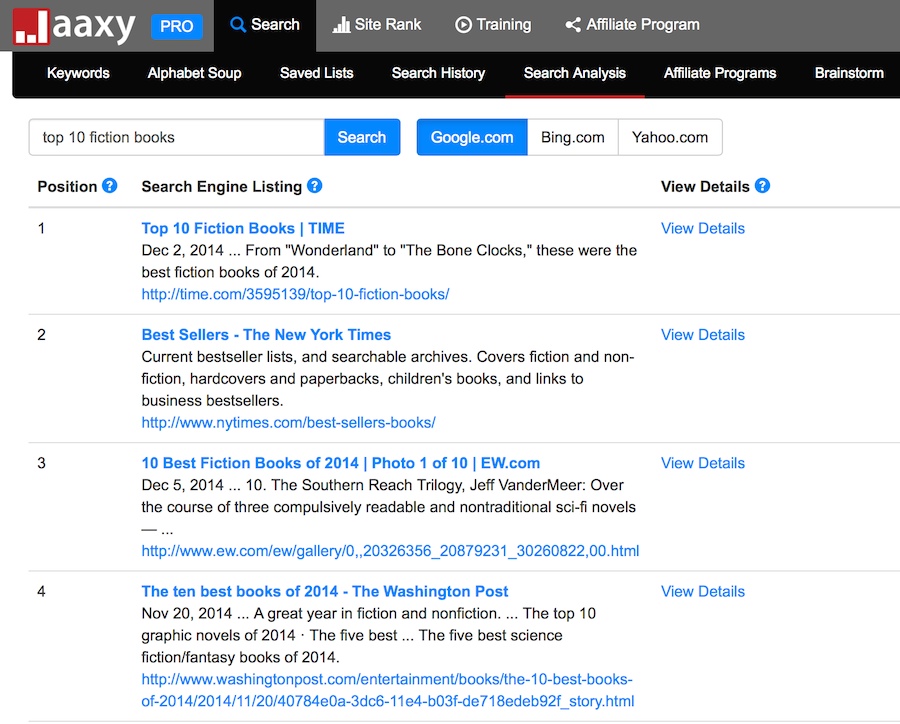 The next graphic displays affiliate programs out there that offer programs within that niche – that makes things a a lot easier!
You'll find CJ (now Conversant), Link Share, Digital River and Clickbank.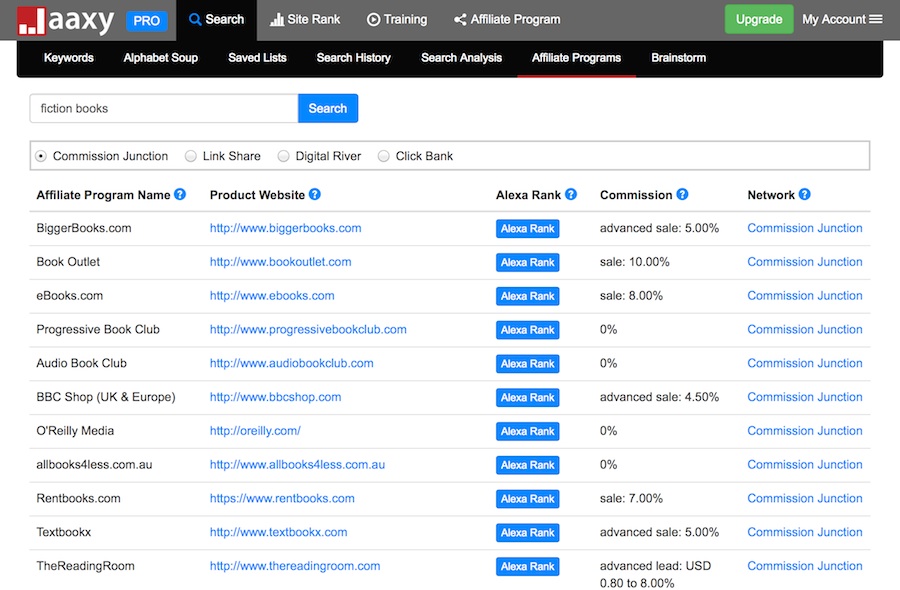 Once you have your site going or your post written, you can check to see where it's ranking.  I use this quite often.  If I see a page going down I tweak it – if I see it going up I dance!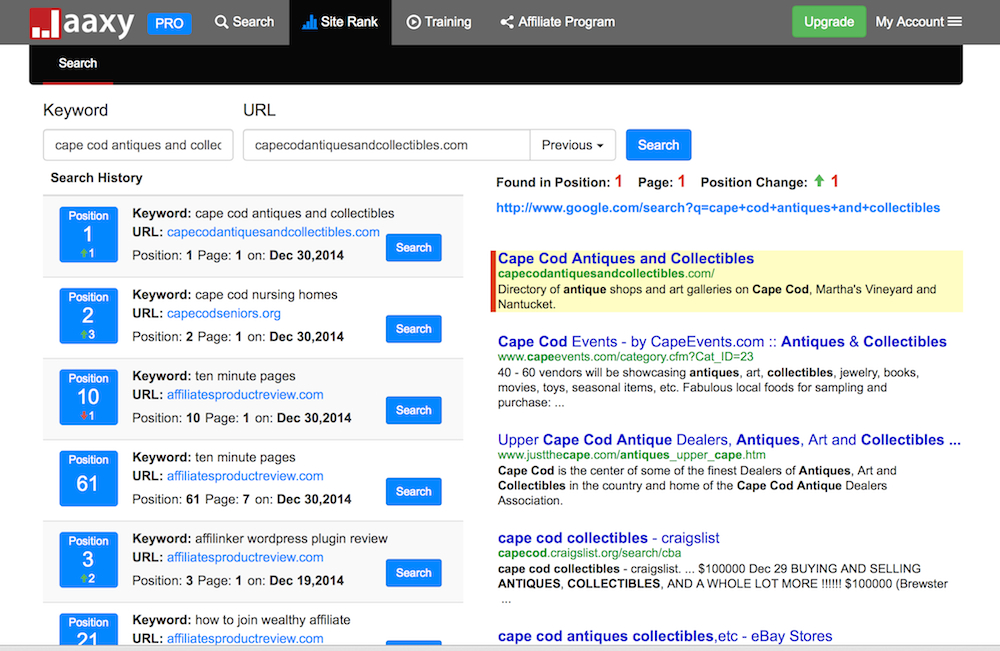 I've barely touched on what can be accomplished with this tool.
Nice thing about Jaaxy is you can try it first to see if it's a good fit for you – that's how I started with this.  Once I did though, I just had to have it.  I figured if I'm going to work this hard on my sites, I want to be doggone sure it was going to rank!
I've written a review of Jaaxy and given it a 9 out of 10!
And It Works!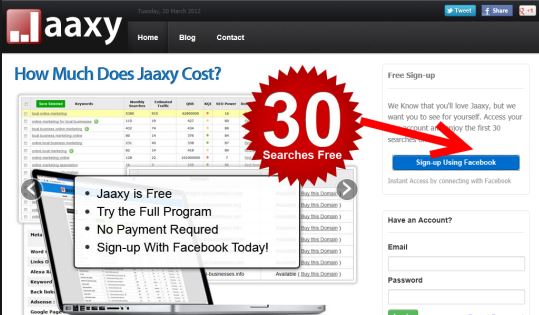 See Jaaxy get the results you need to Rank on the page #1 of Google, and give you so many ideas to expand your reach.
Try It Free Right Now!

I'd love to hear how you liked Jaaxy !
Please leave your comments below and let me know.