AWeber – A Serious Competitor?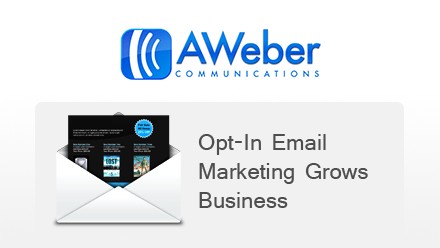 Every good website needs to think about incorporating email into their marketing efforts.
Building a list of email subscribers and keeping them informed through newsletters and updates (not only of current news, but introducing them to additional products they may be interested in), can lead to an enormous profit potential.
Overall Ranking: 9 out of 10
Price: $0 for 1st mo.
$19/mo. (up to 500 subscribers)
Owners: AWeber Communications
1100 Manor Drive Chalfont, PA 18914, USA
Website: http://www.aweber.com/
INTRODUCTION
Email Marketing by AWeber – Send Your First Email Newsletter Today
PROS/CONS
Easy to Use
30 day Money Back Guarantee
No Contracts
No set-up fees
30 day Free Trial – finally! … good going AWeber!
PRODUCT OVERVIEW
Boost your website's traffic and convert more sales with affordable email marketing from AWeber.
Keeping your customer engaged, informed and excited about what you have to offer will keep them coming back time after time – you can't ignore this!
Every website owner NEEDS email capabilities to grow and maintain their business.  The hardest part is deciding which platform to use.  Ha!  It took me weeks before I decided which way I was going to go!
WHO IT IS FOR
Everyone – simple and short answer, but true.
Whether just starting out or have been around the block a time or two, anyone should be able to use AWeber with ease.
TRAINING/TOOLS OVERVIEW
Instruction is given through a Knowledge Base, Live Webinars and Video Training.
The AWeber site is loaded with helpful information in the way of both video and manual format.  Some like to read, others like to watch – I like to do both!
PRICE
$0 for 1st month – free 30 day trial
$19/mo. (up to 500 subscribers)
… graduated increase thereafter depending upon the number of subscribers you have.
ps – it was only recently that AWeber decided to nix their $1 30-day free trial program and updated it to Free.  I suspect that GetResponse was gaining a bit of their share with their free offer – took them a while, but they finally gave in.
SUPPORT
Live Phone Support – during business hours (some have said this is not always successful)
Phone, Text Chat & Email
I'm glad to see that AWeber has incorporated phone support – very big point for me!  There are occasions where I like/have to talk to a real person and nothing else will do.  A very good move on their part, although the user comments have not given AWeber the best score on support – one thing to consider, but don't let it be the deciding point because their product is still top notch.
FINAL OPINION/VERDICT
Email marketing can boost your website's traffic and convert more sales!
It helps your customers and subscribers feel they matter, and will add quality to your relationship.
Although there are other email solutions, I think AWeber is a very good choice.
With over 120,000+ AWeber users, it has earned a great reputation.
Over the years, I have noticed the majority of internet marketers I personally have looked into have used and recommended AWeber as well.

9 out of 10
I think that anyone who chooses AWeber will not be disappointed with its performance.
Between AWeber, GetResponse and MailChimp, anyone can find and easily "get in the swing" of using these email solutions.