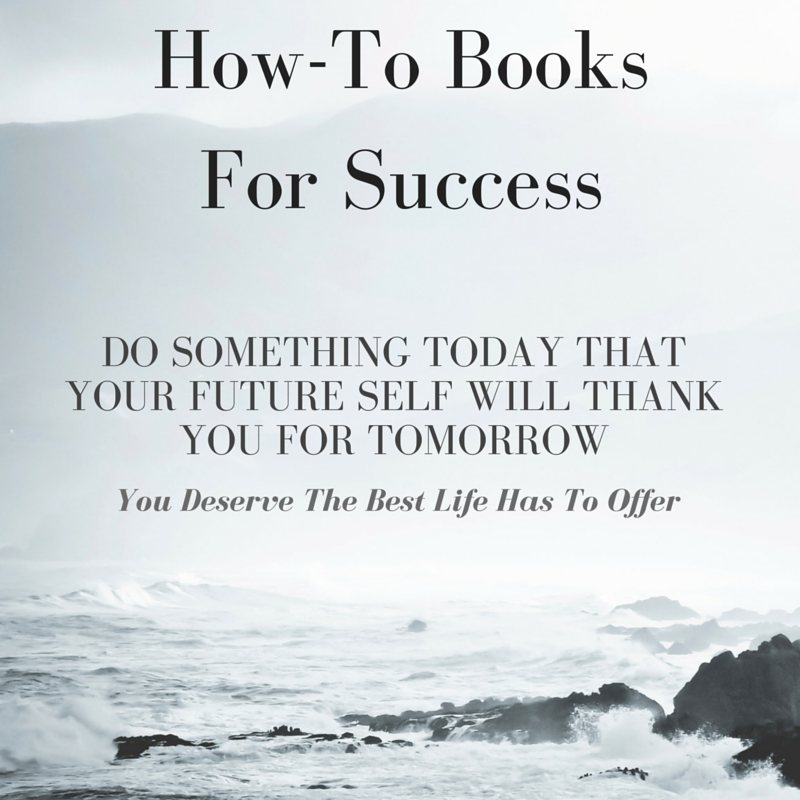 Top How-To Books For Success that should be on everyones book shelf!
Something everyone can benefit from.
These self help books for success will not only inspire you in your personal life but your business as well, and their influence has been proven over and over again throughout the years.
… these are what I call "Perennial Favorites".
… and Millions of People Agree!
These are some of the best books you will ever find on self-improvement and success!
Any one of these books has been shown and proven to improve the quality of one's life and the degree of success achieved in business, personal relationships and in everything you do.
Below you will find some of the most beloved and appreciated self-help books for success there are.  Take your time and browse all 19 books that have been chosen and included here – you won't be disappointed.
… and if you have already read any of them, I would love to hear your comments – your opinion is important!

The Last Lecture
The Last Lecture
by Randy Pausch
"We cannot change the cards we are dealt, just how we play the hand."
— Randy Pausch
Inspiring, intelligent, timeless, and often humorous declaration of the important things in life.  This is one of those books that will be shared and handed down for generations to come!
Randy Pausch was a beloved Professor of Computer Science and Design at Carnegie Mellon University in Pittsburgh, Pennsylvania.  One tradition at the University was asking a professor to give a talk addressing this question:  "What wisdom would we impart to the world if we knew it was our last chance? If we had to vanish tomorrow, what would we want as our legacy?"  This of course requires very deep thinking, and most given that task would do their best to put themselves in that situation to come to their conclusions, but still in the hypothetical. 
But Randy Pausch was actually living it! Not long after he was asked to give this lecture, he found out that he had terminal pancreatic cancer and with scant time left gave the "talk of a lifetime".  But Randy didn't talk about dying, his focus was about living and seizing every moment you have.  It was about overcoming obstacles and making dreams happen.
Below are some of Randy's quotes everyone can use to make their lives better and more meaningful.
Experience is what you get when you didn't get what you wanted. And experience is often the most valuable thing you have to offer.
Never lose the childlike wonder. Show gratitude … Don't complain; just work harder … Never give up.
If I could only give three words of advice, they would be, 'Tell the truth.' If I got three more words, I'd add, 'All the time.'
I don't know how to not have fun. I'm dying and I'm having fun, and I'm going to keep having fun every day I've got left.

-Randy Pausch

Rich Dad Poor Dad
Rich Dad Poor Dad -What the Rich Teach Their Kids About Money That the Poor and Middle Class Do Not!
by Robert T. Kiyosaki
Rich Dad Poor Dad – the #1 Personal Finance book of all time!
One of the most popular books ever, Rich Dad Poor Dad will put a new perspective on achieving wealth.  Drawing from his experience from his own father (highly educated but financially poor), and the father of his best friend (8th grade education but wealthy) Robert took what he had learned to heart  and was able to retire at the age of 47 – "nuff" said!
Kiyosaki argues that it's "what's in your head" and how you think that determines more than anything else how rich you will end up.  When you change the way you think, you'll also change how you act, interact and engage in activities that will catapult you forward towards financial freedom and have a true impact on your desired results.
The main reason people struggle financially is because they have spent years in school but learned nothing about money.  The result is that people learn to work for money … but never learn to have money work for them.
– Robert Kiyosaki
Educate yourself about money and spend a little time if possible with successful people, and learn how to make money work for you!

Think and Grow Rich
THINK AND GROW RICH: The Way To Personal Achievement
by Napoleon Hill
Once an advisor to President Franklin D. Roosevelt, Napoleon Hill became one of America's most influential authors of the twentieth century, and has influenced more people in becoming successful than any other person in history.  His life's work stands as a cornerstone of modern motivational thinking.
Think and Grow Rich has easily become a best-seller.  In his book, Napoleon Hill explains how all achievement, no matter how big or small, begins with an idea.  That wealth comes from transforming that idea into something tangible that will help and serve people – and something they are willing to pay for.  Done through a combination of organized planning, auto-suggestion and what they call "master-mind association".    The goal being to attain inner harmony between your thoughts and your actions.  You literally become and achieve what you think about!  To have control of your life, have control of  your thoughts.  … or … "you are what you think"!
Think and Grow Rich uncovers the money-making secrets to bringing great success.
This is a teriffic book that can literally change your life!

The 7 Habits of Highly Effective People
The 7 Habits of Highly Effective People
by Stephen R. Covey.
The 7 Habits of Highly Effective People is based on a compelling premise: that we will succeed more in life if we decide to effect change first within ourselves, then project that change out, rather than let circumstances control us. Covey encourages the reader to be in charge of his or her own life: a message that's inspiring and motivating.
The 7 Habits of Highly Effective People has been a classic and best selling book the world over.  From educators, to heads of corporations and everyday folks, all have sung praise for this book.
Stephen R. Covey simply and clearly points out how to become more effective in business and life, and with less of your time and energy by incorporating some very important "good habits".  The understanding and development of these habits is crucial in achieving the best in business and your personal life.  The importance of being proactive and prioritizing your goals, and understanding how synergy brings it all together for a more rewarding life.
Covey encourages us and guides us to affect the desired change within ourselves first, then expand outward.
True success can be achieved!  …  truly inspirational – truly motivational
Well over 25 million copies sold!

The Law of Success
The Law of Success
by Napoleon Hill
The Law of Success was the forerunner to Napoleon Hill's well known book, Think and Grow Rich.
Napoleon Hill is well known for his research on how millionaires were made, and the differences between them and the everyday person.
He lays out the sixteen lessons necessary to succeed in the most financially difficult times.  Many of today's top self-help books have taken some of the core principals of Hill's book as a basis for their own works.  The Power of Positive Thinking and The Law of Attraction are two such books.
Learn why some have an edge over others, and put that to work in your own life to become more successful in all you do – both in life and finance.  A definite good read.

Acres of Diamonds
Acres of Diamonds
by Russell H. Conwell
No pun intended, but Acres of Diamonds is most definitely a rare gem.  Many consider this to be one of the best speeches ever written so you know it going to be powerful.  The rewards of hard work, the value of a good education, and the realization that true riches are usually found right "in your own backyard".
Temple University grew from what Russell Conwell initially started.  He had given his speech hundreds of times, took the money he earned from doing so and helped found a seminary which would in time come to be Temple University, which happens to be one of the first colleges or universities that made affordable education for everyday Americans possible.  It stands as a tangible example to his legacy.
This is a significant, motivational and inspirational book!

As a Man Thinketh
As a Man Thinketh
by James Allen
James Allen knew that the mind is a very powerful force.  It guides us through life.  It gives us strength and direction.  It's what can give us happiness.  He believed that purity of mind leads to purity in life.  In other words, understanding and love should direct our attitudes and beliefs, not just with friends but with foes as well.
Spiritual awareness and aspiration is key for a happy, meaningful life.
Out of a clean heart comes a clean life and a clean body.  Out of a defiled mind proceeds a defiled life and a corrupt body.
– James Allen

The Power of Positive Thinking
The Power of Positive Thinking
by Norman Vincent Peale
The Power of Positive Thinking has been a bestseller since the 1960's and continues to be so today.
Giving practical techniques, Norman Vincent Peale outlines whats needed to achieve and live a fulfilling life.  This book will show you ways to improve your relationships; believing in yourself and all you do; develop the competence and confidence to reach all your goals and live a relaxed life.
Norman Vincent Peale has helped millions of people from all walks of life, to expect the best out of life and how to acquire it.

Awaken the Giant Within
Awaken the Giant Within: How to Take Immediate Control of Your Mental, Emotional, Physical & Financial Destiny 
by Anthony Robbins.
In the motivational book Awaken The Giant Within, Tony Robbins shows how with even a few minor changes to our beliefs, we obtain the power to take fate into our hands and determine our own destiny; to achieve what it is we want in, and for our lives.
Robbins believes in taking advantage of every day as if it were our last, and live it to it's fullest.  Time passes quickly and you never know when it's up.
Our personal identity has a huge affect on our actions, and can be self-corrected if necessary.  A national bestseller!

Maximum Achievement
Maximum Achievement
by Brian Tracy
Brian Tracy has long been know worldwide as an authority in the areas of personal success and achievement.  He has spoken to millions of people over the years, helping them to be the very best they can be.  You will find proven methods and techniques to raise one's self-esteem and self-image,  which in turn will enhance the quality of one's life.  … and results will be immediate and dramatic!
The step-by-step blueprint for success and achievement presented in these pages includes proven principles drawn from psychology, religion, philosophy, business, economics, politics, history, and metaphysics. These ideas are combined in a fast-moving, informative series of steps that will lead you to greater success than you ever imagined possible — they can raise your self-esteem, improve personal performance, and give you complete control over every aspect of your personal and professional life.
– Brian Tracy – Maximum Achievement
Every person has the potential within them for personal greatness, you just need to learn how to "tap" into those resources.
Become more focused, more positive in your attitude and outlook, and achieve things you never thought possible.
Maximum Achievement is a real winner!

How to Win Friends & Influence People
How to Win Friends & Influence People
by Dale Carnegie
First published in 1930's, Dale Carnegie's bestselling book How to Win Friends & Influence People continues to change peoples lives today.  A master at understanding human nature.  Dale Carnegie believed that 85% of financial success comes from "the ability to express ideas, to assume leadership, and to arouse enthusiasm among people", and not from any professional education or accolades. How you deal and relate to and with people will determine your successfulness – it is the most important ingredient! Making people feel important and appreciated for what they do is huge, and can carry you far. Trying to see things from their point of view and spark or ignite deepened interest can produce astounding results.
It's not only what you say but how you say it. You can win people over to your point of view or way of thinking without resentment, have them like you, and have them strive for more if you learn the proper "people skills".
Dale Carnegie's first book and a timeless bestseller since 1936.
A definite read for business – a definite read for living!

See You at The Top
See You at the Top
by Zig Ziglar
Zig Ziglar has been a powerful motivational speaker for the modern age for decades.  His ability to inspire people all around the world, encourage personal betterment and uplift his audiences has made him a true force in the self-improvement field.
His teachings stem from his commitment to his faith, the importance of integrity and core values such as honesty and great personal character, and the significance of a healthy self-image are at the core of his philosophy.
See You At The Top is a moving book with the premise that in life, you will have all you desire through helping others.  Ziegler will show you how to set and achieve these life changing goals.
Translated into more than a dozen different languages and selling more than a million copies,
See You At The Top is a true and lasting classic!

The Magic of Thinking Big
The Magic of Thinking Big
by David J. Schwartz
As the saying goes, You Are What You Think – So Think BIG!
That saying is so true. You can have almost anything that you want you just have to think positive and aim high, there is nothing you cannot achieve. You don't have to be any great intellectual, and you don't have to have great talent, but you do have to know how to think in a way that will produce positive results and lead you to success in every area of life.
If you believe you can succeed you will – simple as that!
You become what you think, and your attitude plays a major role in your successes.  Dr. Schwartz has done a superb job helping people get the most out of life.  To be happy and fulfilled is a goal shared by all – this will help you get it!

The Automatic Millionaire
The Automatic Millionaire
by David Bach
David Bach is a national bestselling author who has written many top selling books about money and how to get and stay Rich.
In The Automatic Millionaire, Bach explains an easy foolproof way to accumulate riches, and it starts with:
Pay yourself first and make it automatic!
It's as easy as setting up a simple plan, following it  and sticking with it.  Anyone can do this – everyone can succeed.
Bach will show you now to do and implement this for effortless earning potential.

The Richest Man in Babylon
THE RICHEST MAN IN BABYLON: Success Secrets of the Ancients
by George S. Clason
The Richest Man in Babylon is a wonderful book.  In any persons future lies ambition, hopes and dreams.  But to fulfill those dreams one has to learn about money; how to use it to your advantage and be successful at it.  These lessons are told as parables in the great ancient city of Babylon.
Effective money management is crucial to financial success.  George Clason relates the characters experiences in such a way that anyone can identify with them, whether ancient times or today.  "Wisdom never gets old".
You'll read valuable financial principles that will help you and your business grow.
It has been said that The Richest Man in Babylon was "the most-inspiring book on wealth ever written"!

The Greatest Salesman in the World
The Greatest Salesman in the World
by Og Mandino
This book serves as a guide to a philosophy of salesmanship and success.
Hafid, a poor camel boy about 2000 years ago, achieves a life of abundance as told through this parable set in ancient times.
A short and easy read that packs a wonderful punch.

Who Moved My Cheese?
by Dr. Spencer Johnson
Who Moved My Cheese?
by Dr. Spencer Johnson
Who Moved My Cheese? is a parable written by Spencer Johnson sharing the importance of adapting to change.  One of my favorite lessons learned is to, "always expect the unexpected" and the change that might come with it.
This is a fun story illustrating how important being able to deal with unexpected change can make your life easier in challenging times.
Who Moved My Cheese? has been a motivational tool for businesses, but the lessons taught can help anyone looking for less stress and more success in work and life.
Change is inevitable and can be either  good or bad depending on how you perceive it. This book will help you make the very best of any change that comes your way!

Success through a Positive Mental Attitude
Success through a Positive Mental Attitude
by Napoleon Hill and W. Clement Stone
It is incredible what effect a Positive Mental Attitude has on your wellbeing and the ability to handle what might come your way.
A positive attitude will attract a positive outcome in your life.  Goodness will flow naturally and you will be rewarded with more happiness, contentment, successes and wealth.
Choose to be Positive – It is a choice you can control that will bring you great riches in many different forms!  With the right attitude, anyone can achieve his or her dreams.

Unlimited Power : The New Science Of Personal Achievement
by Anthony Robbins
Unlimited Power : The New Science Of Personal Achievement
by Anthony Robbins
Anthony Robbins shows how taking control and harnessing the "power" your mind, you can achieve just about anything you want in life.  She shares how anyone can achieve; whether rich or poor, prince or pauper.
Unlimited Power reveals the "science of personal achievement" and will teach you valuable insights.

Unlimited Power is a revolutionary fitness book for the mind. It will show you, step by step, how to perform at your peak while gaining emotional and financial freedom, attaining leadership and self-confidence, and winning the cooperation of others. It will give you the knowledge and the courage to remake yourself and your world. Unlimited Power is a guidebook to superior performance in an age of success.
– Tony Robbins; Unlimited Power
I'd love to hear your comments below!
– Thanks