EasyVideoSuite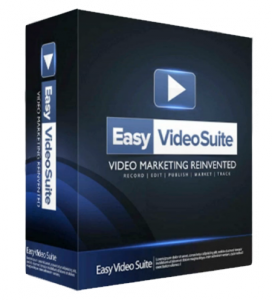 Build your lists faster than ever, attract an audience and quickly profit from video.. the easy way!
High quality, easy-to-use software.
Overall Ranking: 8 out of 10
Price: EasyVideoSuite Software – $297
… add $97 for EasyVideoSuite Commercial License
Owners: Josh Bartlett
Website:  http://easyvideosuite.com
INTRODUCTION
Video presentation is quickly becoming a mainstay on the internet, not only for marketing purposes but for "pure presentation" as well. Many marketers believe its almost a necessity today, and will continue in that direction from here on out; and I tend to agree.
The quality of the video and the ease of use, are the two main points I regard as most important – along with seamless integration along all platforms.
PROS/CONS
A little pricy at $297, but it comes with a 60 day refund period if it's not for you.
If video sells like they say (and we know video does sell), that cost can be recouped fairly easily.
PRODUCT OVERVIEW
Easy Video Suite is the first all in one "complete" video marketing tool.
It records, edits, tracks and publishes your videos easily and can even create beautiful presentations with pre-made templates. It has shown itself to be by far the most popular video marketing software used by thousands of business owners and online marketers.
WHO IT IS FOR
Everyone – beginner to expert
… who is interested in video presentation
TRAINING/TOOLS OVERVIEW
Video recording
Record basic screen or webcam videos in seconds and get online in seconds.
Seamless S3 integration
Designed to work seamlessly with Amazon S3 to quickly and securely host your videos for pennies!
Add buy buttons & call-to-actions
Explode sales by embedding "buy now" buttons, Opt in forms & CTA's directly in your videos.
Video pages
Create gorgeous video pages for your videos, in seconds, all drag and drop.
First advanced, live video marketing stats
Use the most advanced video marketing analytics to stay on the pulse of your markeitng.
Video conversion
Never struggle with conversion again, one click web and mobile ready video converter.
Playlists
Create gorgeous video playlists with our drag and drop editor.
Timed Events
Create timed events in and around your videos to captivate your audience.
Split testing
Create video split tests, set performance goals in seconds and track results.
Security
Secure your videos url, the embed code and more with our advanced security.
SEO features
Rank your videos in the search engines easily with our SEO features.
Drag-and-drop
Be constantly in control, regardless of experience with our drag and drop dashboard.
SUPPORT
60 Day Money Back Guarantee
PRICE
EasyVideoSuite Software – $297
… add $97 for EasyVideoSuite Commercial License
Free 30 day membership to VidMarketing.com (A video marketing training site)
… be sure to cancel this before the 30 days are up or you will be charged $37/month for continued access.
FINAL OPINION/VERDICT
Gets a pretty good grade, and should be a great help to those pursuing video marketing and presentation.